They arrived today: four big boxes delivered by our friendly neighborhood UPS guy. He had to brave the fury of MacDuff, our 20lb West Highland terrier, who wags his tail and jumps with delight to greet everyone who comes to our door—unless you're delivering mail or packages. Then he is transformed into his miniature version of a viscous guard dog, barking like the end of the world is nigh.
But brave MacDuff's fury the UPS guy did –so here they are! The real thing, my final print books. Not the Advance Reader copies (ARC's) or the galleys, but the real McCoy. I have to keep pinching myself to make sure I'm not dreaming. But it's for real; I am finally a published author. 12 years after I started on this improbable venture. Twelve years of writing and re-writing; scrapping scenes and starting over; reviewing and revising, trying to get it right. After four years of the roller coaster of emotions of the submission process, querying agents, carefully researched and individually targeted. Four years of: oh, I'd love to see your entire manuscript, but then: oh, it's wonderful but not quite right for me at this time. Three years of major re-writes after extensive editorial review. Two years of submitting directly to small independent publishers that accept 'unrepresented' manuscripts directly from authors —with no response at all.
And now, finally, here we are, one year after deciding to go with She Writes Press, after deciding to give my novel a chance to make its way in the world, to green-light my own book, as Brooke Warner, the founder of She Writes, says. After one year of detailed copy-editing, cover design decisions, layout design discussions, and final proof-reading, my books are here. And they are beautiful! They ought to be: such a labor of love. A long, long labor.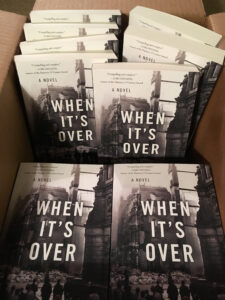 I am so appreciative of all the support and encouragement I have received along the way, from those very early days at my first creative writing classes at the Writing Salon in Berkeley, to all my insightful writing teachers and friends, through to the amazing efforts of my publicist, the wonderful Caitlin Hamilton-Summie. When It's Over is ready to go out into the world. Here we go! It's been a wild ride.