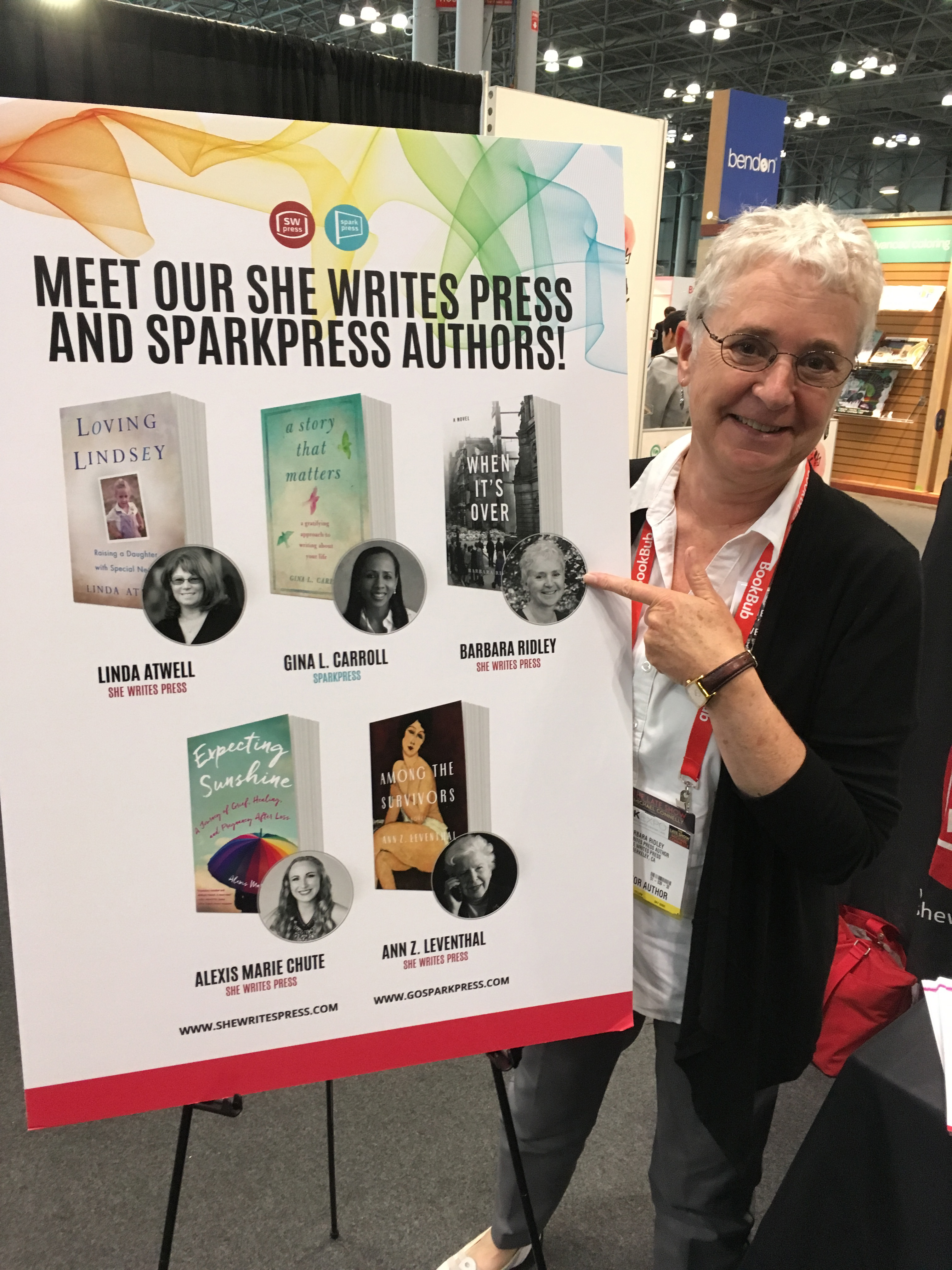 I have just returned from New York City and my first ever Book Expo (BEA 2017). I attended with a group of She Writes Press authors—and I have to say that was the best part: getting to meet in person the awesome project managers and support staff from SWP and all my fellow authors. And seeing my wonderful publicist, Caitlin Hamilton-Summie, who was in town for the Expo. She and I have been communicating via email and a couple of phone calls over the past several months, but I had no idea what she looked like! Thank goodness for texting—we managed to find each other in the Food Court, and we had a great meeting. Then I was off to the dinner She Writes Press was hosting at the Park restaurant: a room full of people who had been just names and thumbnail photos on our Facebook group. The challenge was trying to talk to each of them: an impossible task. So many interesting books to learn about just from this group – and the Expo hadn't even started yet!
I walked into the Javits Center for check-in, and was in awe. OMG! The place is humongous—with the infamous glass ceiling that was supposed to be shattered at Hillary's non-victory night party last November. No, I'm not over it. And 45's announcement on the Paris Climate Accord coming in the middle of the Expo didn't help. But I digress… the books…
I've been surrounded by books my entire life. My father was a writer, and our house had bookshelves in every room. So I am used to lots of books. But nothing quite prepared me for this. The entrance was adorned with HUGE 50-foot banners advertising the forthcoming works of best-sellers Steven King, Dan Brown, John Grisham, and others more interesting to me: Celeste Ng and Nicole Kraus. And then an enormous banner declaring: "We Want Every Child to Say: Please Give Me Another Book". Okay, I confess, that gave me the chills.
I moved on into the exhibition itself, a mammoth hall with hundreds of displays, ranging from the huge Simon and Schuster and Penguin/Random House efforts to tiny little pop-ups staffed by lonesome self-published hopefuls, and everything in between: children's books, Chinese and Korean publishers, editing and marketing services for authors, agents, librarians, audiobook folks. Oh, and did I mention the stacks of used and bargain books? A whole section devoted to them. And of course, there was the She Writes Press booth, which I kept circling back to, in search of familiar faces. And to obsessively check that my book was still displayed on the rack.
My book will not be published until September, but there was a big push to get Advance Reader copies in time for the Expo. And they're here! I'd been warned to bring only a few, and they are on display at the booth, where I will take my turn, and hopefully get a chance to talk to a few people about my novel. I also have beautiful postcards printed with the cover image, description and one of my early "blurbs", especially prepared for this event. But now that I'm here, it suddenly feels absurd to expect anyone to notice my book among the hundreds of thousands here.
So I wander around trying to absorb it all, not getting in the long lines waiting for a book to be autographed by an author I've never heard of, not handing out my postcards willy-nilly. I try to strike up random conversations a few times, with only marginal success. I talk to a woman who is mainly into chick-lit, and whose eyes glaze over when I describe my novel. I sit next to another woman at lunch who tells me right off the bat "I don't like historical fiction" – although we continue our conversation and I discover she was born in Germany soon after WWII, so we do share some common interests, and as she leaves, she asks for one of my postcards. But I don't feel as if I am doing a good job with this self-promotion stuff.
I decide to focus instead on attending workshops that sound helpful: guidelines for working with independent bookstores, enhancing that all-important social media platform, learning about book awards. I attend some presentations just for fun, to hear Scott Kelly, Scott Turow, Al Franken, and Pete Souza, Obama's official photographer, whose photographs I have admired on line, and which will be published in a coffee-table book in October. I'm putting that on my 'must-have' list.
I thought it would be weird to be here before my book is actually published – but it turns out all the monster big-sellers being promoted here have Pub Dates in September or October. Hillary herself has a new, picture-book version of "It Takes a Village" coming September 26, the same date as my novel! So I will be in good company.
BEA was for me a fascinating introduction to the big wide world of book publishing, this new world I am venturing into. I heard old-timers remark that the Expo seemed smaller this year, with attendance down. I can't even…. It seemed huge to me. So many books, so little time… My novel, this labor of love for the past 12 years, is trying to find a place in this world. It feels overwhelming, but I'm going to give it my best shot.